iAstroPhoto v. 1.2.1
Digital camera focus and control software for astrophotography using Macintosh OS X
iAstroPhoto is a program to assist an astrophotographer in the field. It allows direct control of Canon DSLR cameras, and can be used on any digital camera controlled with other software. iAstroPhoto currently includes:
a focus module, to assist in the focus of digital SLR cameras

a simple camera control module which includes the possibility of remote shutter control in bulb mode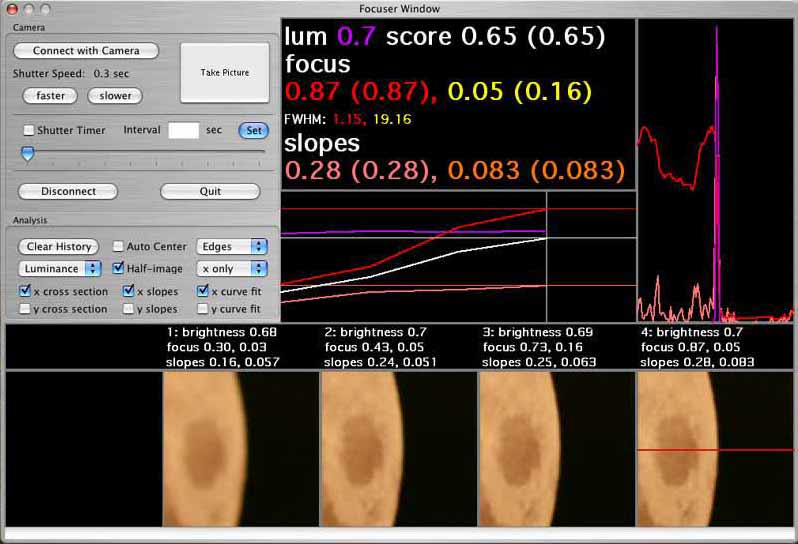 ---
(9 MByte download, requires 30 MBytes of free disk space)
If you use a recent generation Canon camera, see below!
---
iAstroPhoto is inspired by the fine program DSLRfocus for Windows by Chris Venter. Got a PC? Then DSLRfocus is what you're looking for.
---
Requirements: iAstroPhoto requires Mac OS X 10.2 through 10.6. It will not run on OS X 10.7 or higher. For later operating systems and all Canon DSLRs except the original Digital Rebel, try nebulosity.

iAstroPhoto can control the following Canon EOS cameras
1D, 1D Mk II, 1Ds, 1Ds Mk II, D30, D60, 10D, 20D, Digital Rebel/300D/Kiss Digital, Digital Rebel XT/350D/Kiss Digital N

Digital Rebel XTi/400D and Canon 30D status: The current version of iAstroPhoto's USB/firewire camera control does not work with DIGIC III cameras such as the Digital Rebel XTi/400D or 30D, but you should be able to focus images taken by these cameras via iAstroPhoto's folder watching feature (see the next paragraph). Serial control will still work with the appropriate cable. Alternatively, the program Nebulosity includes a focusing capability which works with all Canon DSLRs except DIGIC I cameras such as the original Digital Rebel, 10D and 1D/1Ds.

A new version of the Canon SDK that supporting the most recent Canon DSLRs (XTi, 30D, etc.) has been released, but it uses a completely new programming model which requires completely rewriting iAstroPhoto from scratch, and only supports Digic II cameras. I don't have much time for such a major project these days because of my real job.
Having said that, the new Canon SDK is a significant improvement over previous ones: it is fully Mach-O (previous SDKs used the old classic library model) and so it will support a better user interface, better internal design and universal binaries. It is also nicely object oriented, much better than the previous library. My complements to Canon for doing such a nice job. The eventual rewrite of iAstroPhoto will be a significant improvement, and I look forward to doing it someday.
iAstroPhoto can operate with jpeg and tiff images taken with any camera via the folder watching feature. I have found that focusing my Canon Digital Rebel XTi using this feature while controlling the camera with Canon's EOS Utility to be almost as easy as using iAstroPhoto alone.
---
iAstroPhoto allows you to control long-exposure images via a special serial cable plugged into your camera's remote jack. You can buy these cables from Hap Griffin, or see Paul Beskeen's site to see how to build one yourself.
Do you want a red screen? Select Draw White Text from the focus menu and use DarkAdapted to turn your screen red.
---
iAstroPhoto has been tested on a Canon EOS Digital Rebel (300D/Kiss) and Mac OS X 10.3 and 10.4.2 communicating via USB. The features of iAstroPhoto are tuned to the EOS Digital Rebel. iAstrophoto should work in OS X 10.2, but I'm not sure. I welcome feedback from users of other operating systems and Canon cameras.
iAstroPhoto uses the Canon SDK, and should be safe for your camera. But you use this software at your own risk: I cannot be responsible for any damage use of this program may cause.
I hope it leads to many excellent, sharply focused pictures!
- Steve Bryson
Feedback and comments should be sent to stevepur@mac.com.
---
Back to Steve's astrophotography page